Rosewood Cabin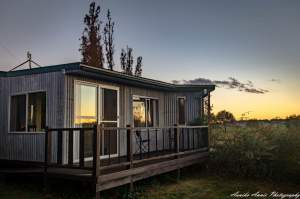 Rosewood House dates from 1904, with the main house built in 1906, and the kitchen area circa 1920. It has been modified by each new owner to reflect the changing needs of households and the new technologies available. The current owner, David Kanaley, has continued this evolution with the introduction of a solar hot water service and NBN wireless internet. Past owners have mostly respected Rosewood House's history, and David intends to keep this tradition. For this reason, the new solar hot water system is connected to a replica of a slow combustion wood stove built in the 1890 – 1910 period. And as in the early 1900's, the stove and kitchen area are the heart of the house. So while Rosewood House is locally heritage recognition and is of local heritage significance, it is not a static museum but an evolving place in which to live.
Rosewood Cabin dates from around 2005. It sits in prime position, overlooking the newly established orchard with extensive rural views of several large man-made water bodies. It consists of a separate lounge, an entry/study/reading area and a combined kitchen/dining/bedroom with an attached bathroom off the bedroom section. There is also a north-facing front deck.
The cabin is private and well separated from the main Rosewood House. It has reverse-cycle air conditioning and a separate electric oil-filled radiator. There is an electric blanket fitted to the queen size bed with dual controls.
The cabin is self-contained with a refrigerator, microwave oven and cooking hob. All cooking and dining essentials are provided. TV and radio provided and wireless NBN internet is available.
The cabin accommodates two people. It is a non-smoking cabin.
Bookings
To make a booking or to find more information on the cabin please visit our AirBnB page,
or phone David direct on (02) 6779 1518
Rosewood's garden is a cool climate garden, specialising in all varieties of bulbs including daffodils, tulips and gladioli; and tubers such as dutch iris and peony roses. It contains a great variety of deciduous trees. The garden has always been a major part of the house and property, but today only remnants of the original garden, such as the large trees at the rear of the house, remain. These trees were planted in the 1920's when the old coach house was demolished. Other parts of the garden altered as the nature of the property's functions changed. At one time, Rosewood was much larger and functioned as a self-sufficient property. It boasted the first registered dairy in NSW. This was a large operation, but today, no dairy buildings remain except for a small two room cottage that was the dairyman's house. There was also a piggery and a granary which are also both long gone. The original stables, recently reinforced to prevent their collapse, still remain. The large, original orchard was removed in the 1980's but a new orchard of some 30 trees has been planted by the current owner.
Rosewood also has connections with the bushranger Thunderbolt. He apparently visited here regularly after holding up stage coaches coming up the range from Armidale.