Guyra Tomato Exchange

Guyra's tomatoes are grown in one of Australia's largest and most advanced glasshouse facilities. Costa's glasshouses are perfectly situated to harness the best growing conditions nature can offer thanks to Guyra's unique micro climate.
In total, Costa's current Guyra glasshouses have 302,400 square metres (30.22ha) of growing area (approximately 12 AFL football fields) and at peak production hold more than one million plants.
To accommodate their continued business growth, a $67 million expansion project is planned, which will increase production area by 33 per cent to 40ha and include a 2.5ha propogation nursery, and create an additional 150 jobs onsite. The expansion project will bring our Guyra onsite operation to:
40ha of glasshouse
2.5ha propagation nursery
two large packing facilities
more than 800 staff.
The state-of-the-art glasshouse technology and growth program puts Costa Tomatoes at the forefront of innovation in ecologically sustainable practices and sets them apart in the fruit and vegetable industry.

Find out more at https://costagroup.com.au/our-categories/tomatoes/

Job Opportunities at Guyra Tomato Exchange - https://costagroup.currentjobs.co/Job/Search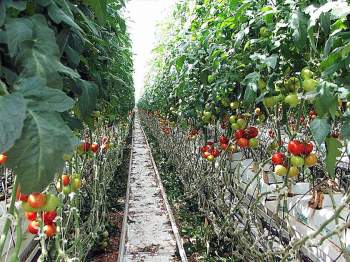 click for larger image